As I waited to received my new Capital One Quicksilver Card in the mail I wondered what I had to do before being able to use it. Did I have to activate it?? And if so what did that activation process entail? With some credit cards I've gotten in the past there was no activation requirement and they were ready for immediate use. Still with others I had to go through a generally common sense activation process and with some others it was a complicated and confusing activation process that even required making a phone call.
I wondered if I needed to make a phone call to a rep or if I could skip the call and simply go online to activate it without having to speak to anybody. I wondered how long I had to activate my card before it was no longer valid and also once the card was activated how soon could I use it? I also wondered about online management of my account and whether I had to sign up for that separately or if that was part of the activation process.
With so many questions and no simple answers I jumped online and got started with the process. Luckily for new cardholders, Capital One makes this process simple for those not so tech savvy individuals. Below, I have written a comprehensive guide to activating a new Capital one credit card so that you can turn your brain off, stop thinking and just follow these simple steps. In this guide you will see that I'm activating a Capital One Quicksilver card but the process is the same no matter which Capital One Card you're activating.
How to Activate Your Capital One Card?
First things first yes you will have to activate your Capital One card before being able to use it! The nice thing however is that there are three different ways I found out that you can activate your card. You can do it through the Capital One App (this seems to be the way Capital One prefers cardholders activate and it's the easiest way). You can also activate your new card online at capitalone.com/activate or over the phone.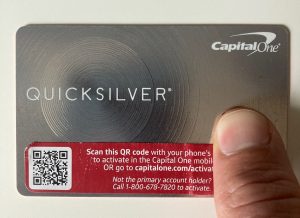 When you activate your card online or through the app you will also sign up for online management through the Capital One Online banking portal at the same time. 
If you choose to activate your card over the phone you will however have to go online or download the app after the fact and enroll in online banking if you want to manage your card online.
The good news among all of this is that it should only take you several minutes to activate your card and once it is activated you should be able to use it immediately. Based on reports you have either 60 days or 90 days to complete activation of your Capital One card. After that time period is up you will need to contact Capital one to request a new card be mailed to you.
Preferred: Activating Your Capital One Card With the Capital One App (Primary Account Holders Only)
Activating through the Capital One mobile app is the preferred way that Capital One would like you to activate your card.
Step 1: Just Download the Capital One App by scanning the QR Code found on the sticker on the front of your new card, by visiting app store or texting "MOBILE" to 80101.
Step 2: Quickly Sign in to the App or create a new user account.
Step 3: Once signed in Tap "Activate New Card".
Step 4: Finally in the last step Tap "Start" and follow the instructions for Touching Your New Card to Your Phone Screen or you can chose the alternative method by Entering the 3-Digit Security Code found on the back of your card and then Sliding the Onscreen Bar to activate.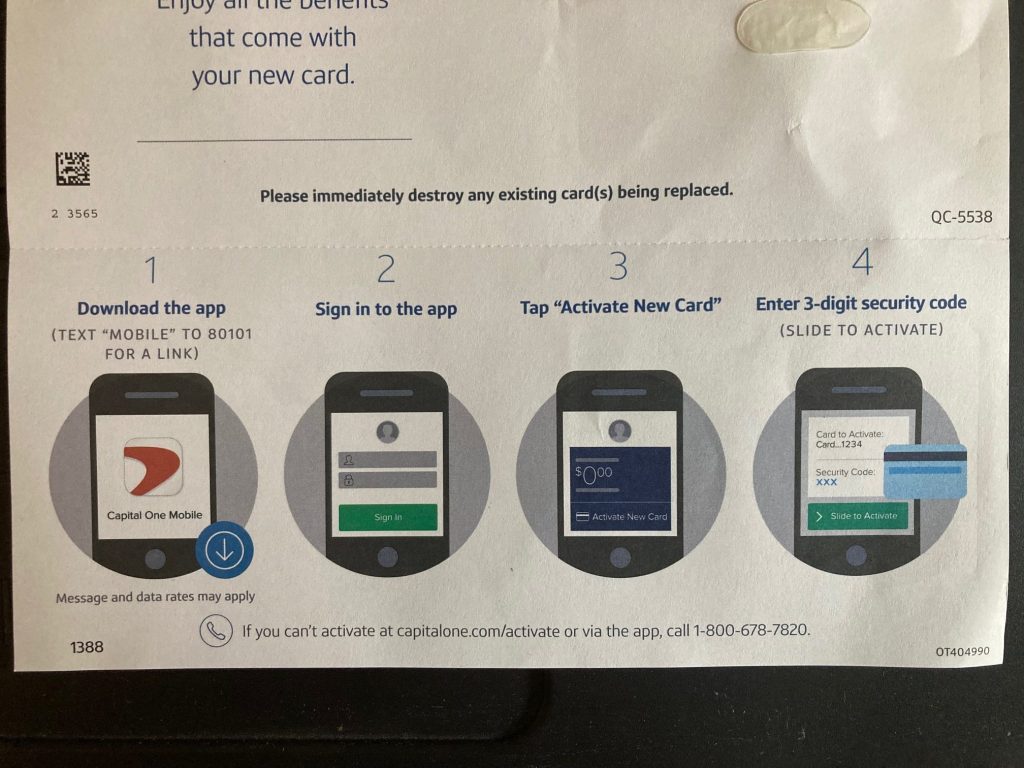 Using the app to activate your card is great because then you'll have access to the app to manage your credit card account from the convenience of your mobile phone.
Alternative Method 1: Activating Your Capital One Card Online
Step 1: Visit CapitalOne.com/Activate. 
Step 2a: If you already have a credit card and online banking account with Capitol One, the activation process will be more straightforward. Just click the 'Sign In & Activate' button.
Step 2b: If you do not have an Capital One online banking account, to get started you will need to sign up for online banking. Just click the 'Enroll & Activate' button.
Step 3: Once signed up and logged in there will be a small link that says "Activate your new card". Click the link and a box will pop up prompting you to enter the 3-digit security code found on the back of the card. Just enter the 3-digit code and click "Activate" and your card will be activated.
Alternative Method 2: Activating Your Capital One Card Over the Phone
Activation over the phone is simple. Just call 1-800-678-7820 and follow the automated prompts. You must have your Capital One card in hand and provide the last 4-digits of card number, the 3-digit security code found on the back of your card and the last 4-digits of your social security to the automated system.
Once you have entered this information into the automated system you will be transferred to an agent who will handle the rest of the activation process. 
My Favorite Capital One Credit Cards
Personally, I only have the Quicksilver card which offers a very basic 2% cash back rewards on all purchases but there are many other awesome cards offered by Capital One that allow you to to earn points and cashback or even rebuild your credit. 
Depending on which card you choose, there will be different benefits and features. Here are some of the card options you may find.
SavorOne Cash Rewards card – The Savor One Cash Rewards card is great for anyone who uses their card for everyday purchases. You will need a credit score of 670 to qualify. There is no annual fee with this card. and you can earn 5% cashback on Uber Eats, 3% on dining and entertainment, 2% at grocery stores and 1% on all other purchases.
Venture Rewards card – If you travel and want to earn bonus miles, the Venture Rewards card may be perfect for you. You will need a score of 670 to qualify for this card. You can get this card with no annual fee for the first year and only $95 annually afterward. Often times you can earn 50,000 bonus miles after spending $3,000 on purchases within the first 3 months of opening a new  account.
Platinum Credit Card – With their Platinum Credit Card, you will need a minimum credit score of 580 to qualify. You will be eligible for a limit increase if you make your first 5 monthly payments on time. This card is excellent for someone who has a lower credit score and is looking to build their credit score back up.
So, which card will you choose? Visit Capital One's website to view all of their cards and offers available to you!
About Capital One Bank
Capital One is one of the United States' largest banks, with over 750 locations & more than 2,000 ATMs nationwide. Capital One does business in 3 countries including the United States, Canada, & the UK. Capital One is not only one of the largest credit card companies in the US, but the company also offers auto loans and basic banking services.
Contact Information
1-800-CAPITAL (1-800-227-4825) 

Contact Online Support – https://www.capitalone.com/support-center/contact-us/