Anybody looking to save money can find huge savings by switching their phone service from a traditional landline phone service provider to the magicJack Plus. The magicJack Plus is a small USB device that lets consumers make calls through their high-speed internet connection. It delivers many of the same features that are provided by a traditional phone service provider, but at a price of just $29.95 per year (with an option to purchase five years of service for $99.95).
The magicJack Plus makes calls through a VoIP network, also known as Voice-Over-Internet-Protocol.. This is the same technology other companies have used previously , such as NetTALK, Vonage, and the previous model of the magicJack, released in 2007. These services use your existing broadband internet connection to make and receive calls. One downside to this, however, is that you will not be able to make or receive calls during a power or internet outage. With a reliable internet connection, this is not be a significant issue.
The magicJack Plus phone service gives users call waiting, call forwarding, caller ID, three-way calling, and voicemail, all for no additional charge. With their low yearly payment, users can make and receive unlimited local and long distance calls anywhere in the United States and Canada. Users can also make international calls for a low per minute rate, which varies from country to country.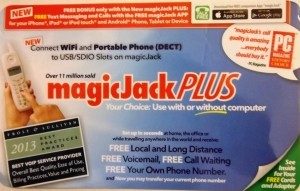 The device is simple to set up. Consumers can expect to spend less than five minutes from opening the device, to being able to make calls. The magicJack Plus device is plugged into a high-speed modem or router, and into its power supply. Next, a standard telephone is plugged into the magicJack Plus, and users can begin making calls immediately, using their own phone number.
The device requires an initial purchase of $69.95, which includes the magicJack+ device and all of its hardware, including an AC adapter power supply, an Ethernet cable, and a cable for USB. This price also includes the first year of service, so consumers do not even have to worry about paying a phone bill for at least a year after the initial purchase. The initial purchase also includes a 30 Day Free Trial, so consumers have a month to decide whether or not they are satisfied with the magicJack Plus. This trial period eliminates the weariness of those who are switching to phone service provided through a VoIP network for the first time. If they are unsatisfied, the device can be easily returned.