The magicJack magicApp for Android and iOS devices allows individuals with a variety of different devices to make and receive unlimited local and long distance calls from anywhere in the United States or Canada.  Although the App is currently limited to use within North America, it does seem likely that it will soon be available in other countries worldwide.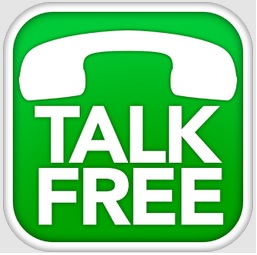 No magicJack or magicJack plus 2014 device or account is required for use of the magicJack App.  The magicJack App works by using the device's available Wi-Fi, 4G, or LTE connection to make and receive calls.  This means that users of various types of smartphones and tablets can use the device without using any of their phone plan minutes, making the App completely free.  This makes the free magicJack App download a great value for those with minimal phone plan minutes.  Although users are not required to set up a magicJack account to use the app, those who do so will also be provided with a Free Voicemail service.
How to Make Free Calls with magicJack App
The magicJack mobile VoIP App is simple to use.  After downloading the free magicJack App from the App Store for iPhone, iPad, and iPod Touch, or from the Google Play store for Blackerry and Android devices (and hopefully one day for windows phone 7, windows phone 8, and windows mobile), users simply have to dial any magicNumber (more details below), landline number, or cell phone number.  After that, users can talk with friends, family, and loved ones just like they would with a standard phone.
Those who are trying to contact those with the magicApp currently have to perform a relatively simple, although roundabout process to talk with friends and family.  First, dial 1-305-848-TALK.  After being promoted, enter the magicNumber.  Typically, these numbers begin and end with asterisks.  Therefore, when prompted to do so, dial *01234567* (for example).  Those who are making phone calls from their smartphone or Blackberry without a magicJack account should also be aware that their phone number will be displayed as their magicNumber.  Rather than those on the other end observing a traditional American or Canadian number, they are likely to see a magicNumber (*01234567*) instead.  Those who have a magicJack account will be displayed as a standard American or Canadian phone number.
It is important to note that those using an iOS operating system (iPad, iPhone, iPod Touch) should ensure that Apple notifications have not been disabled.  Otherwise, users of these devices will not be able to receive phone calls.  To change these settings, access the device's Settings, and ensure Notifications have been selected to "ON."  Scroll to the magicJack App, and ensure that "ON" is selected.
Features of the magicApp
In addition to being able to make and receive phone calls for free within the United States and Canada, users of the magicJack App for Android or iOS will enjoy the highest sound quality available to them on any other mobile VoIP app.  After users have gone through the magicJack registration process at magicjack.com, users of the App will be provided with a completely free Voicemail service.  Those who currently have a magicJack account can use their existing account to register the magicJack App to their device.
The App uses a very simple and familiar screen with which users can make phone calls.  Numbers (with the exclusion of magicNumbers), can be dialed just as they would from any traditional mobile device.  The App is shown below.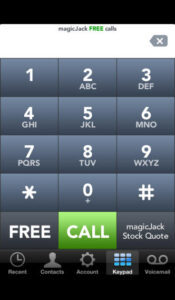 magicJack App Compatible Devices
iOS Devices
iPhone
iPod Touch
iPad
Android Devices
Blackberry
Windows Phones
Symbian Phones
App Alternatives to the magicApp
Skype
MobileVoIP
VoIPBuster
Talkatone
Viber App
Voxer Walkie-Talkie
Facetime Audio
iCall
Vopium
Truphone
Fring
Vonage
Jajah
Yahoo! Mobile Chat
Vopim
Beejive
Nimbuzz
Future of the magicJack App for Android and iOS
Although the magicJack App is currently free, it is anticipated to be a charged service in the future.  With this additional cost to users, it is likely that international use is likely to increase.  Additionally, the company is anticipated to begin offering a free texting service through the use of the App.
Those who have used the magicJack App who wish to provide input to others can leave their magicApp review in the comments below.